巴拉瑞特金矿城 一日游 Ballarat Sovereign Hill Day Tour (Code: M015)
巴拉瑞特金矿城 一日游 Ballarat Sovereign Hill Day Tour (Code: M015)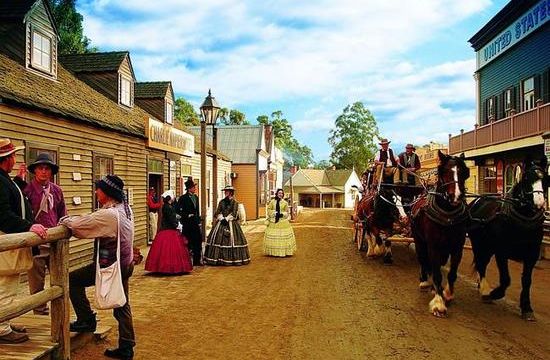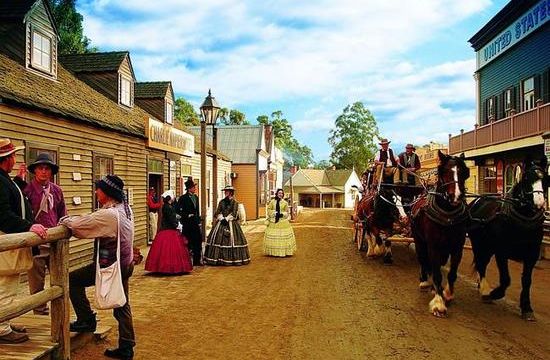 行程
淘金镇位于墨尔本西北部,约一个半小时车程。我们将带您穿越回19世纪50年代的淘金矿工盛世,亲自体验淘金的乐趣。在那里,我们将游览疏芬山小镇,观看纪录片,了解到当时的淘金与黄金制作过程,走进黄金博物馆,欣赏格式各样的金沙,金矿和从矿坑刚出产的裸金以及精美的金币,你还会体验一回坐矿车进入地下矿井参观,必定令你眼界大开,毕生难忘。在金矿镇主街上,您还可以惠顾各式各样传统的小店,与百名身穿当年服装和用传统方式工作的员工们一起追忆当年寻梦者的淘金岁月,尽情体验这典型的澳洲小镇生活。傍晚时分回到市区结束行程。
Open 9am - 5:30pm everyday except Christmas Day
The Ballarat Wildlife Park is a 16-hectare wooded territory where you can see and cuddle koalas, hand feed kangaroos and race with emus.
The park also houses a Reptile Park wherein you have more than 400 different species of reptiles, including frogs, snakes, lizards, crocodiles, alligators and turtles.
On Sundays, there's a special reptilian treat lined up. A feeding session with a giant 4.2-meter saltwater crocodile from very close quarters and marvel at the bravado of the crocodile keeper tackling the snapping rows of teeth.
Sovereign Hill is an outdoor museum presenting the story of Australia's fabulous goldrush history. Its particular focus is the impact of the great 19th century gold discoveries on the growth of Ballarat, which was a small pastoral settlement when gold was discovered in 1851. By 1861, Ballarat had grown into a fine provincial city built on the wealth derived from its gold.

Set on 30-acres, Sovereign Hill offers a full day of fun with something to suit everyone! Pan for real gold (it's finders-keepers), witness an amazing gold pour and ride an inclined tramway deep into the mine for an underground adventure you'll never forget.(Day entry to Sovereign Hill, including an underground Mine Tour and entry to the Gold Museum)

---
服务条款
(1) 旅游团预定一旦确认后,团费需要即时付清。如果出发前29至8天内取消,扣每位团费50%,出团前7天内取消,团费不予退款。
(2)为保障所有乘客利益,请通知参团客人准时在出发地点或接送地点等候,逾时不到,则视为自动放弃,不予退款。 
(3) 如果我们确认的接机客人所乘航班比预计到达时间晚到超过30分钟后,我们的导游将 不再机场等候。请客人自费乘车来参团或自动放弃此天活动,所缴团费概不退还。
(4) 如因参加人数不足,本社保留更改、取消之权力或无息偿还团友全部費用。 
(5) 本公司强烈建议客人购买旅游保险,如在行程中由于旅游车机械故障,天气因素等不可抗力影响下造成任何意外事件而令行程更改或取消,本公司不予负责赔偿。个人物品或行李自行妥善保管,如有遗失,组团社不承担责任。 
(6) 请注意:在特殊情况下列如人数,天气,交通,接送机等原因但不只限于此原因,本公司保留修改行程,取消或替换旅游项目,延长或缩短路程的权利。
Note: all payments on self-paying activities shall be given to the local Chinese-speaking tour guide for bookings prior departure.
Tour inclusions: 4 nights twin shared/ double bed hotel room with breakfast, comfortable coach, Chinese speaking tour guide, return ferry from Kangaroo Island and Cape Jevis, seal bay and Flinders Chase National Park entrance fees and barbecue lunch buffet. Free airport pickup and hotel set down. 

Tour exclusions: tickets for attractions (own expense), lunch / dinner, tour guide service fee $5 per person per day, other own expense, peak season (holiday or special event) hotel extra charge, single room supplement and travel insurance.

Terms and Conditions for booking and cancellation

(1) Tour fare has to be made once the tour confirms.  50% tour fare deduction if cancellation between 8 to 29 days prior to departure day. No refund before 7 days of tour departure.
(2) To protect the interests of all clients, please notify them to wait in the departure or pick up locations on time. This is considered as automatically waiver if clients are no show or late and the tour fare shall not be refunded.
(3) If clients' flights delay more than 30 minutes, our tour guide will not wait for them at the airport. Clients should go to join the tour by themselves or cancel that day's activities. No tour fare will be refunded.
(4) Our travel agent the right to change or cancel the tour if there are not enough participants. Full fare will be refunded to clients.
(5) We highly recommend clients to purchase travel insurance. Our travel agent is not responsible for any compensation if itinerary changing or cancellation is caused by mechanical breakdowns or adverse weather conditions. Personal belongings or baggage have to be taken care by clients. Travel agent will not responsible for any lost.
(6) Please note: Our travel agent reserves the right to modify the itinerary, cancel the activities or replace different activities if necessary subject to no. of participants, weather and traffic conditions.
---
评论