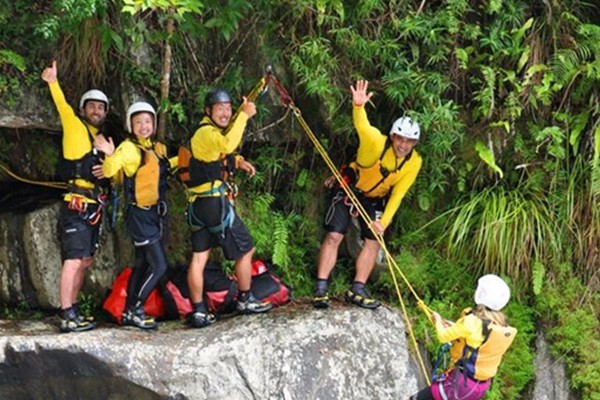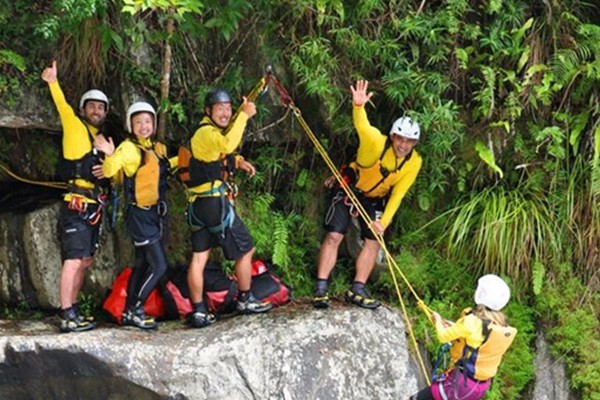 行程
雨林溪降
收拾你的心情,带上你的勇气,我们要出发去雨林溪降了!接下来你要经历瀑布绳降、滑索飞跃、岩峭跳水等许多挑战性的活动。水晶瀑布仅距离凯恩斯市区25分钟的峡谷之间,独特的地形造就了天然的热带雨林溪降场地,同时这个环境的安全性和可控性也有着很高的保障。
着装要求:           泳衣和沙滩裤
携带物品:           防水防晒霜、浴巾、可换衣物及可容纳湿衣的袋子
装备提供:           运动衬裤、安全帽、袜子、溪降专用鞋及全套溪降使用装备
时间安排 (approximate)             
0730       Bunda Street (Dreamtime Hostel酒店前)
0730       Reef Fleet Terminal 凯恩斯游船码头
0735       Cairns City Bus Station (Lake Street) Platform 2 凯恩斯公交总站2号站台
0740       Queens Court bus stop 酒店巴士车站
0745       Corner Sheridan & Grove Streets 街道转角车站
0745       车程大约25分钟
0815       Arrive at Crystal Cascades 到达水晶瀑布
0820       佩戴溪降装备
0840       步行20分钟到达观景台
0900       安全常识讲解
0920       步行至活动出发点
0940       到达出发点,熟悉溪降装备
1000       从峡谷开始您的第一个下降节点
全程大约2小时,包括8个绳降、3个跳水、2个岩石水滑梯以及1个超酷的滑索水潭飞跃
1215       回到观景平台,步行去停车场更衣处
1230       到达水晶瀑布停车场,更换干衣服,领取便当食物,并回到车上
1300 – 1330      回到接送地点
Cairns Canyoning
Bring out your inner dare devil canyoning in the Cairns rainforest, where you abseil, zip line, slide and jump beside waterfalls and into pools.
Located in a secluded section of Crystal Cascades only 25 minutes from Cairns, this is a half day tour perfect for anyone adventurous 8 years and older.
Raging Thunder has over 30 years experience in river based actities and 100% commitment to canyoning safety.
Our medical questionaires are designed to keep rafting as canyoning as possible for people from all nationalities and walks of life, while still allowing everyone to experience the thrill of canyoning.
Hidden in the tropical rainforests, Crystal Cascades is a natural series of waterfalls that flow into large pools.
Our canyoning course has been designed to have no environmental impact, and includes :
5 Abseils up to 32 metres (104 ft)

Rock slides and swimming

4 Rock Jumps if you are feeling brave

30m Zip Line with water spashdown
---
费用包含

价格包含往返接送、全套训练和活动装备,以及便当食物

---
服务条款
(1) 旅游团预定一旦确认后,团费需要即时付清。如果出发前29至8天内取消,扣每位团费50%,出团前7天内取消,团费不予退款。
(2)为保障所有乘客利益,请通知参团客人准时在出发地点或接送地点等候,逾时不到,则视为自动放弃,不予退款。 
(3) 如果我们确认的接机客人所乘航班比预计到达时间晚到超过30分钟后,我们的导游将 不再机场等候。请客人自费乘车来参团或自动放弃此天活动,所缴团费概不退还。
(4) 如因参加人数不足,本社保留更改、取消之权力或无息偿还团友全部費用。 
(5) 本公司强烈建议客人购买旅游保险,如在行程中由于旅游车机械故障,天气因素等不可抗力影响下造成任何意外事件而令行程更改或取消,本公司不予负责赔偿。个人物品或行李自行妥善保管,如有遗失,组团社不承担责任。 
(6) 请注意:在特殊情况下列如人数,天气,交通,接送机等原因但不只限于此原因,本公司保留修改行程,取消或替换旅游项目,延长或缩短路程的权利。
Note: all payments on self-paying activities shall be given to the local Chinese-speaking tour guide for bookings prior departure.
Tour inclusions: 4 nights twin shared/ double bed hotel room with breakfast, comfortable coach, Chinese speaking tour guide, return ferry from Kangaroo Island and Cape Jevis, seal bay and Flinders Chase National Park entrance fees and barbecue lunch buffet. Free airport pickup and hotel set down. 

Tour exclusions: tickets for attractions (own expense), lunch / dinner, tour guide service fee $5 per person per day, other own expense, peak season (holiday or special event) hotel extra charge, single room supplement and travel insurance.

Terms and Conditions for booking and cancellation

(1) Tour fare has to be made once the tour confirms.  50% tour fare deduction if cancellation between 8 to 29 days prior to departure day. No refund before 7 days of tour departure.
(2) To protect the interests of all clients, please notify them to wait in the departure or pick up locations on time. This is considered as automatically waiver if clients are no show or late and the tour fare shall not be refunded.
(3) If clients' flights delay more than 30 minutes, our tour guide will not wait for them at the airport. Clients should go to join the tour by themselves or cancel that day's activities. No tour fare will be refunded.
(4) Our travel agent the right to change or cancel the tour if there are not enough participants. Full fare will be refunded to clients.
(5) We highly recommend clients to purchase travel insurance. Our travel agent is not responsible for any compensation if itinerary changing or cancellation is caused by mechanical breakdowns or adverse weather conditions. Personal belongings or baggage have to be taken care by clients. Travel agent will not responsible for any lost.
(6) Please note: Our travel agent reserves the right to modify the itinerary, cancel the activities or replace different activities if necessary subject to no. of participants, weather and traffic conditions.
---
评论